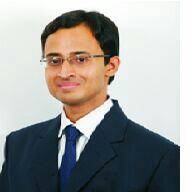 About Us
VAXEL Solutions Private Limited was established in 2012 as a sole proprietorship and incorporated as a private limited company in 2014. We are based in Mumbai, India and focus on upskilling the Indian SEBI RIA (Registered Investment Adviser) segment.
VAXEL commenced operations offering custom elearning content development services and later pivoted towards offering personal financial planning online training programs. After SEBI introduced it's landmark 2013 Investment Adviser regulations, VAXEL focused on this nascent segment to upskill the next 10,000 SEBI RIA Fee Only Financial Planners by 2030!
VAXEL was established by Vijay Xavier (Ex-EXL, CRISIL, TFSR, HP). He is a EPGDBM from NMIMS, Bengaluru and CPFA (NISM) qualified, with over 16 years experience in BFSI, Consulting and ELearning across various roles in CRM, Financial Analysis, New Product Development (Elearning), Analytics Consulting and Program Management.He is a voracious reader, loves travelling and is a marathon brisk walker.